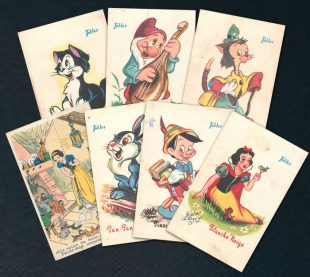 2 years ago
Love these Tobler Disney postcards. Tobler published Disney postcards during the 1950s by giving them […]
These two Walt Disney Scrooge McDuck ledra dolls including a rare large Scrooge McDuck ledra doll of 35 cm and a Scrooge McDuck...

These 1960s Donald Duck and Nephew figurine set are great and in exceptional condition. They are currently up for auction (click to...

This summer marks the second anniversary of Shanghai Disney Resort, and what better way to celebrate than with the premiere of a hit...
February 29, 2020

The team behind NBA Experience at Disney Springs looked across the country to find individuals

February 29, 2020

The time has arrived! The all-new "Magic Happens" parade debuts today at Disneyland park!

February 28, 2020

The Animation Experience at Disney's Animal Kingdom offers guests the chance to learn to draw
More in this category →
March 15, 2017

NAO's latest Disney figure is the lovely Princess Elsa from Frozen and has been designed by

January 13, 2017

These three Disney Roadster Racers Mini Soft Toys have just arrived at the Disney Store. Three

February 12, 2015

We love Baymax!!! and Big Hero 6. For Marvel fans make sure you watch the clip
More in this category →
February 29, 2020

Smoothie lovers, re-juice and rejoice! Jamba, your one stop for on-the-go freshly blended fruit and

February 28, 2020

Can you believe we're less than two months away from the grand opening of "Drawn

February 28, 2020

We're now less than a week away from the much-anticipated debut of Mickey & Minnie's
More in this category →
Other News

The team behind NBA Experience at Disney Springs looked across the country to find individuals […]