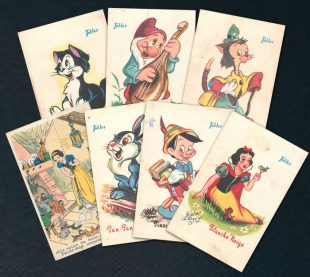 2 years ago
Love these Tobler Disney postcards. Tobler published Disney postcards during the 1950s by giving them […]
These two Walt Disney Scrooge McDuck ledra dolls including a rare large Scrooge McDuck ledra doll of 35 cm and a Scrooge McDuck...

These 1960s Donald Duck and Nephew figurine set are great and in exceptional condition. They are currently up for auction (click to...

This summer marks the second anniversary of Shanghai Disney Resort, and what better way to celebrate than with the premiere of a hit...
March 25, 2020

With their happy harmonizing, the Dapper Dans are an iconic part of the Main Street,

March 24, 2020

Hello, Disney Parks Blog readers! I wanted to share an update on our beloved wildlife.

March 18, 2020

With local communities more in need than ever during this unprecedented time, Disneyland Paris
More in this category →
March 15, 2017

NAO's latest Disney figure is the lovely Princess Elsa from Frozen and has been designed by

January 13, 2017

These three Disney Roadster Racers Mini Soft Toys have just arrived at the Disney Store. Three

February 12, 2015

We love Baymax!!! and Big Hero 6. For Marvel fans make sure you watch the clip
More in this category →
March 20, 2020

If you're looking for a fun, creative way to add some Disney magic to your

March 11, 2020

On behalf of a talented team of Imagineers and incredible team of collaborators, I are

March 10, 2020

One of my favorite annual events is returning to Disney Springs this week—the Mighty St.
More in this category →
Other News

With their happy harmonizing, the Dapper Dans are an iconic part of the Main Street, […]