Madame Alexander have just introdued their 2012 collection and it includes Minnie Inspires Couture 10″ Doll from the Disney Collection. Minnie Inspires Couture is set for shipping in August and is priced at $149.95.
Madame Alexander says
Our Minnie Inspires Couture doll does it in a VERY cool way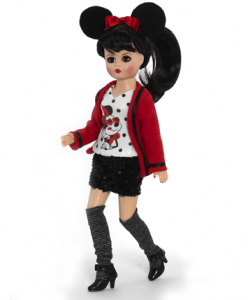 . She's a 10" fully-articulated Cissette, with brown eyes and a fabulously big, brunette ponytail and bangs, which are worn beneath her removable Minnie Mouse ears. Her outfit combines black-on-white polka dot v-neck Tshirt with a Minnie Mouse print on the front, with a red cardigan sweater and a black sequin mini skirt. Includes black striped knee-high stockings; black heeled Mary Janes with an ankle strap. She's just FAB!