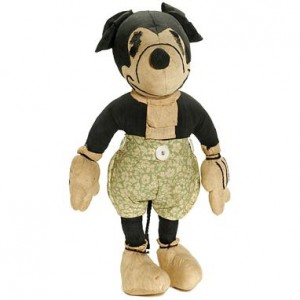 This rare early "Mickey Mouse" Soft Doll is coming to auction in Germany on May 26th.  Dating from c. 1932 this Charlotte Clark style type Mickey Mouse soft doll was one of the first licensed Mickey Mouse dolls. It is 14 in high and features pie-eyes, rat-tailed, velvet with fabric trousers. The sale takes place at the Breker auction rooms, Coligne, Germany for more information visit http://www.breker.com
Disney & Charlotte Clark & Charlotte Clark Dolls
Shortly following the release of Walt Disney's Steamboat Willie, Charlotte Clark designed the first Mickey Mouse doll in early 1930. She obtained permission from the Disney Studio, and the dolls began to appear in the Los Angeles area stores. Demand soon exceeded her ability to produce the dolls, so Clark designed sewing patterns so that customers could make their own dolls at home. Walt and Roy Disney were so pleased with Charlotte's Mickey Mouse doll that they rented a building on Hyperion Avenue near the studio, titled the Doll House. Here Charlotte and six other seamstresses produced 300 to 400 dolls per week. These first production dolls were rubber stamp on the underside of the doll's foot:"Walt Disney's Mickey Mouse Design Patent Applied For."
Charlotte continued to hand craft dolls personally for Disney, which he handed out as gifts to friends, family and business contacts. These dolls often included a personalized embroidered label that reads, " A Charlotte Clark creation made especially for Walt Disney, copyright W.D.Productions. These rare dolls MICKEY, DONALD and PLUTO stood 8 inches to 10 inches in height. Charlotte also produced other prototype dolls for Walt Disney including a 16 inch tall PINOCCHIO DOLL in 1939. All these dolls showcase Charlotte's signature sewing craftsmanship, labels, original patterns and materials which included: cotton fabric face with felt sculptured shapes, black floss embroidery mouth and face expressions, applied oil cloth pie-cut eyes, tiny buttons, pin-stripped miniature corduroy clothes, cotton- felt hands, feet or shoes, silk-satin embellishments and hand sewn seams.
Charlotte Clark's character creations set the design standard for all Disney merchandising for dolls thereafter. As the collection of Disney characters grew, Clark created patterns for Donald Duck, Pluto, Minnie Mouse and other popular characters which were licensed and produced by manufactures world-wide.
For collectors of Disneyana, Charlotte Clark hand made dolls, prototype dolls and early production dolls are among the most coveted of Disney memorabilia.
Charlotte Clark Information Source: Wikipedia