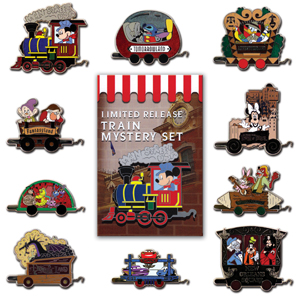 Due for release on the 22nd March is the Disneyland® Resort Train Limited Release Mystery Box Set.
The set is available from Disneyland® Resort and is being produced in a Limited Edition of 2400. The set is priced at $19.95
All Aboard! In this limited release Train Mystery Set, ten (10) pin designs are known, while one (1) pin remains a mystery. The collection features Disney characters on board various train cars. Each box contains two (2) randomly selected limited release pins.