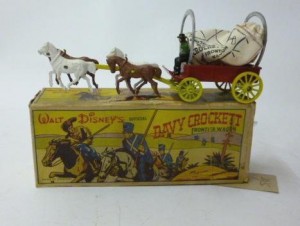 At auction at Hartleys Auctioneers and Valuers is a Morestone Walt Disney Davy Crockett Frontier Wagon. It is die cast with four horses, driver, canvas cover and accessories.
Disney & Davy Crockett
The Crockett legend was again popularized by Walt Disney, who produced a three-episode television series loosely based on his life, starring Fess Parker in the title role: Davy Crockett, Indian Fighter; Davy Crockett Goes to Congress; and Davy Crockett at the Alamo.
The shows aired on the ABC network on the Wednesdays of December 15, 1954; January 26, 1955; and February 23, 1955. Buddy Ebsen co-starred as his friend George E. Russel, who had actually onlyaccompanied Crockett during the Creek Indian War. Davy Crockett made a return with Disney in two further adventures: Davy Crockett's Keelboat Race and Davy Crockett and the River Pirates. In these two episodes Crockett faced off against Mike Fink, another early American legend. The series spawned a revivial in popularity and fastenation with the legendary Crockett, especally among children.
Source: Disney Wiki